Overview
Location: Florianópolis, Brazil
Language: Portuguese
School: San Diego State University
Dates of Program: May 25 - August 5, 2022
Program Type: Summer Study Abroad
Program Level: Year 3​ and ​Year 4
Language requirements: Must have at least 2 semesters of Portuguese study to be eligible
All Project GO programs provide funding for:
Tuition/fees
Room and Board
Travel to/from study location
Books
Insurance
Visa
Note: The proposed study abroad program is subject to change to an online format depending on potential travel and university restrictions as summer 2021 approaches.  We will keep the LARC and Project GO websites and applicants updated with any changes.
Before you start the application process, please read and understand the eligibility conditions and scholarship/funding information.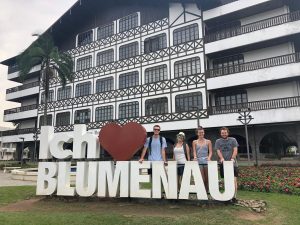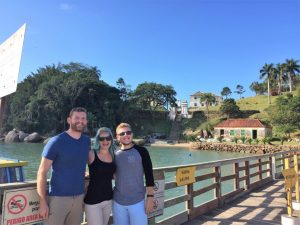 SDSU Project GO Study Abroad Brazil
Excursions with Language Mentor
The following costs are not included in Project GO Funding: personal spending money, personal travel, costs for obtaining a passport, medication, and expenses for dependents.​ ​Project GO participants planning to travel abroad MUST have a valid U.S. passport in their possession no later than 90 days before anticipated travel date. Many destinations require student visas, which take additional processing time.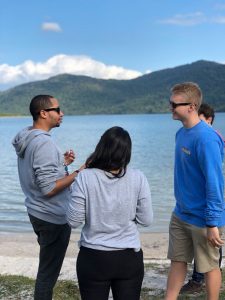 This program is offered in collaboration with the University Studies Abroad Consortium (USAC) and the University of Nevada, Reno (UNR)
You can find more information about housing options, activities, the host university and more on the USAC Florianopolis Study Abroad Website
If you are awarded a study abroad scholarship, you must complete the USAC Study Abroad Application to choose your courses, housing option (home stay), and more.
Please email any questions to larclanguageprograms@gmail.com
Summer language courses are intensive, with three to four credits of Portuguese taught in each session.
*Portuguese Composition I (PORT, 300-level, 3 credits) Prerequisite: four semesters of college Portuguese.
*Portuguese Composition II (PORT, 300-level, 3 credits) Prerequisite: five semesters of college Portuguese.
Portuguese Composition I and II focus on helping students advance their writing skills, review some grammar points, and acquire more advanced oral proficiency and cultural competence through action learning. The textbooks and class discussions will foment opportunities for the students to express themselves in written and spoken Portuguese. The topics selected and the readings will help them expand their vocabulary and apply the target language to address everyday situations. The areas covered in this course focus on several aspects of Brazilian modern society (agriculture, technology, arts, culture, health, lifestyle, tourism, sports, environment, and immigration issues). In addition, students will read and complete a reading log of selected Brazilian crônicas (short literary/journalistic pieces, first published in newspapers and later collected in a volume). Each class combines a variety of discussions and review of grammar embedded in the context of the topic discussed. Emphasis is in reading/writing in combination with oral expressions. Class attendance and active participation are required.
OR
*Advanced Portuguese I (PORT, 400-level, 3 credits) Prerequisite: six semesters of college Portuguese.
*Advanced Portuguese II (PORT, 400-level, 3 credits) Prerequisite: seven semesters of college Portuguese.
Advanced Portuguese courses are designed to further equip students with the necessary language skills in Portuguese to express themselves well (in writing and verbally) when discussing scholarly topics. The program aims at helping students feel more confident to speak, develop a higher level of understanding of the spoken and written language, and learn more advanced vocabulary and cultural and literary contents. The class discussions, readings, and writing components will focus on Brazilian movies which emphasize different aspects of the country's culture, history, economy and politics. Each unit of the book discusses a film and each movie is treated as a textbook. All aspects of language learning (from acquisition of vocabulary to review of grammar points) will be included. Therefore, the course encompasses listening comprehension and discussions, but also focuses on an extensive number and variation of written exercises. The class will watch, analyze, and write about five contemporary movies as well.
Class attendance and active participation are required.
Optional: Portuguese Conversation (PORT/WLL, 200-level, 1 credit) Prerequisite: two semesters of college Portuguese
Portuguese Conversation is an intensive, one-credit language course, designed for students who have taken Elementary Portuguese courses at college-level before. This course complements the development of linguistic competences taught at the two/three-hundred level courses. The main emphasis of this course is on oral communication and, therefore, class attendance and active participation are essential.
Academic Year and Online Portuguese Sustainment Studies
While taking a traditional language class at your home university is preferred, you may choose to take online language sustainment classes through SDSU. However, the sustainment plan is flexible. For example, you may find 2-3 online hours per week is enough to maintain your knowledge/use of vocabularies and phrases, or engaging with people who speak the language through a club or organization, and/or meeting with a tutor for bi-weekly conversational check-ins. LARC/SDSU Project GO staff will meet with you to articulate a plan that works for you. In all, it is a matter of maintaining your language skills during the academic year until your next Project GO experience.
*The online language sustainment program is for SDSU Project GO participants only.