About the FFuN Film Series
The SDSU-LARC Foreign Language Film Night (FFuN) series has a little bit of film fun for everyone. We screen one foreign language film per week of the semester, sixteen films each Spring and Fall, in the various languages taught at SDSU and a few more. During this period of online learning, all films screen in Zoom. Students enrolled in a course in a film's language are eligible to attend the live screening (even if it's not a public one). Email creative director, Stacy Nyikos (snyikos@sdsu.edu), for the link.
This Spring 2021, we're adding to the FFuN by screening six films synchronously for the general public in The Languages of SoCal mini-series. The film will be followed by a discussion with a San Diego university/college faculty and a neighbor about cultural aspects of the film and their immigrant experiences. The discussion will last about 30 minutes and include a Q&A open to all participants.
We're partnering up with the San Diego Public Library System for the Languages of SoCal miniseries. They will be sharing the series with all San Diego Public library patrons. And, we are also very fortunate to be collaborating with SDSU's local public branch library, College-Rolando. The main librarian to contact about the series is Bijan Nowroozian. News about each film with go out to patrons on a weekly basis, so if you're a library patron, check your library's main page and email blasts for film news.
This series is an ongoing - and growing - collaboration. If you've got a film suggestion, reach out! We're always looking for new films to include in upcoming seasons. If you know of a group in the SoCal area that might enjoy the series, email the creative director, Stacy Nyikos (snyikos@sdsu.edu). She'll be happy to share the series with them.
Upcoming Film and Discussion - Wednesday, 4/7/21, 6:30 - 9:00pm PST
Love is War (Nigeria 2019)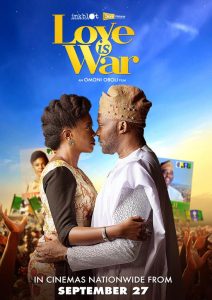 It's the penultimate Spring FFuN / Languages of SoCal Film and we're pulling out all of the stops. One of the main actors will join us for the post-film discussion!
Synopsis: In Love is War sparks fly as a husband and wife vie for the same gubernatorial seat in the Nigerian state of Ondo. The wife is the better candidate, but the husband is from the state. Can their marriage survive the political battlefield?
It is with great honor that LARC welcomes the film luminary, Richard Mofe-Damijo. Mr. Mofe-Damijo will join us for our post-film synchronous discussion. He is not only the male lead in Love is War, Mr. Mofe-Damijo is an acclaimed actor, writer, producer, oscar winner, lawyer, and Former Commissioner for Culture and Tourism in the Delta State, Nigeria. Mr. Mofe-Damijo is currently on location filming a new production and will join us during the discussion led by Niyi Coker (director of the School of Theater, Television, and Film at SDSU), and Ihuoma Nwaogwugwu, (competency engineer for 3D printing at HP).
Zoom registration link: https://sdsu.zoom.us/meeting/register/tZYrdO2rpzkiGtNa6Lybh81DD2uZI6Wu5xZ0
Upcoming Spring 2021 FFuN Films
Event Title
Date and Time
Event Type
Location
Film: Love is War (Nigeria 2019)
4/7/21, 6:30 - 9:00pm
Live viewing and discussion
LARC FFUN Film Series
in collaboration with the SD Public Library
Open to the public
Register here to view live on 3/24/21
Film: The Wandering Earth (China 2019)
4/13/21
LARC FFUN Film Series
Film: Cuties (France 2020)
4/21/21
LARC FFUN Film Series
Film: Innocence (South Korea 2020)
4/28/21, 6:30 - 9:00pm
Live viewing and discussion
LARC FFUN Film Series
in collaboration with the SD Public Library
Open to the public
Registration coming soon
Film: The Mole Agent (Chile 2020)
5/5/21
LARC FFUN Film Series
Film: Attraction (Russia 2018)
5/12/21
LARC FFUN Film Series