Welcome to the Southern Area International Languages Network (SAILN)
San Diego Imperial and Orange Counties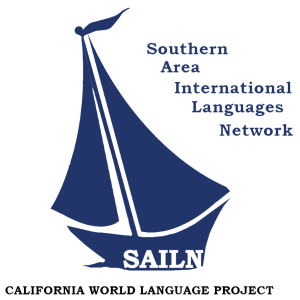 SAILN (Southern Area International Languages Network) is one of seven sites under the California World Language Project (CWLP), affiliated with the California Subject Matter Project (CSMP). SAILN has served the world language teacher population of the San Diego County area by offering a high quality of ongoing and systematic professional development since 1990. Currently, SAILN is housed at San Diego State University as one of the Language Acquisition Resource Center (LARC) projects.
The project offers year-round Standard-based professional development (Modules A – D, Foundational to Leadership Workshops) opportunities for all language teachers, including K-12 public school teachers, heritage/community school teachers, after school program teachers, etc., to continue developing their instructional teaching competencies. Furthermore, these professional development programs enable teachers to take on leadership roles in the classroom, as well as at their school and the district level. Upon completion of 120 hours of professional development in the SAILN Project Modules, teachers become CWLP Fellows, which empowers them to become SAILN Project interns, trainers, and future state level advocates.
Mission and Vision
SAILN's mission is closely connected to the LARC and CSMP's missions and goals. LARC "fosters effective teaching of world languages locally, regionally, and nationally, and pursues this through initiatives involving research-based design and delivery of language and culture programs, teacher professionalization, and assessment."
CSMP strives to involve every language teacher in supportive professional learning communities and "supports highly effective teaching, supports English Language Learning and academic literacy, provides technical assistance to partner schools & districts, and assesses the impact of professional development."
Upcoming Events
January 25, February 29, March 28, April 25 and May 30, 2020 - Strand A, C, and EL. More information and registration on the SAILN Events page
November 2nd, February 22nd, April 11th + 3 dates to be added in 2020-2021 - Strand D Leadership Skills w/Maylén Rafuls Rosa. More information and registration on the SAILN Events page
Southern Area International Language Network (SAILN): CWLP Regional Site
The SAILN professional development team is composed of language teachers from both secondary and university levels who serve world language teachers in Imperial, Orange, and San Diego Counties (Region 9A/9B service area).
Location
San Diego State University
Storm Hall (SH 2nd Floor), Room 204
5500 Campanile Drive
San Diego, CA 92182-8305
Google Map