Please scroll down to view the event descriptions, presenters, and registration link.
Strand B Workshop - Application Level
Dates: January 28th (Hyflex), February 25th (online), March 18th (Hyflex), April 22nd (online), and May 20th (Hyflex)
Time: 8:30 am to 3:30 pm
Location: Hyflex (LARC or Zoom) - Online (Zoom)
Agenda:
Day 1: January 28th, 2023 - HYFLEX
 Understand and apply the proficiency benchmarks
Use the same authentic resource across proficiency levels
Design an outline for a reading unit using authentic resources
Day 2: February 25th, 2023 - Online
Integrate backward design strategies to create a reading unit
Utilize the three main principals of UDL strategies in the design of a reading unit
Incorporate cultural analysis in the reading unit
Day 3: March 18th, 2023 - HYFLEX
Integrate a variety of reading strategies and activities in a reading unit
Learn about the PACE Model and know when and how to use it
Research and learn about the NIP Model for teaching grammar in the moment
Day 4: April 22nd, 2023 - Online
Understand the Triple E model and apply it to unit
Discuss collaborative digital reading tools
Understand why alternative assignments are a good option for online and face-to-face classes
Day 5: May 20th, 2023 - HYFLEX
Presentations of reading units with audience's feedback
POSTPONED: Strand D
Leadership is an act of service to the profession. In this course, participants will delve into the philosophy and practices of leadership as it relates to personal growth. Participants will be challenged to think deeply about their role as a leader, regardless of the current position they hold. They will also be encouraged to take risks with their leadership abilities by pursuing actions and roles that create meaningful change in their context.
Presenter: Dr. Chris Brown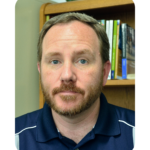 Chris supports the director and other LARC team members in the design and implementation of LARC's externally funded international programs and initiatives. He holds graduate degrees and certificates in Second Language Instruction, Spanish Linguistics, and Higher Education Leadership. His doctoral dissertation is titled "
Discursive Leadership: Exploring the "black box" challenge in transcultural leadership studies
." His research interests focus on the intersection of organizational theory and behavior, leadership, and transcultural communication.
Contact Information
Shahnaz Ahmadeian Fard
Director, SAILN Project
Email: larc.sailn@sdsu.edu
Office Phone: (619) 594-0846