Please scroll down to view the event descriptions, presenters, and registration link.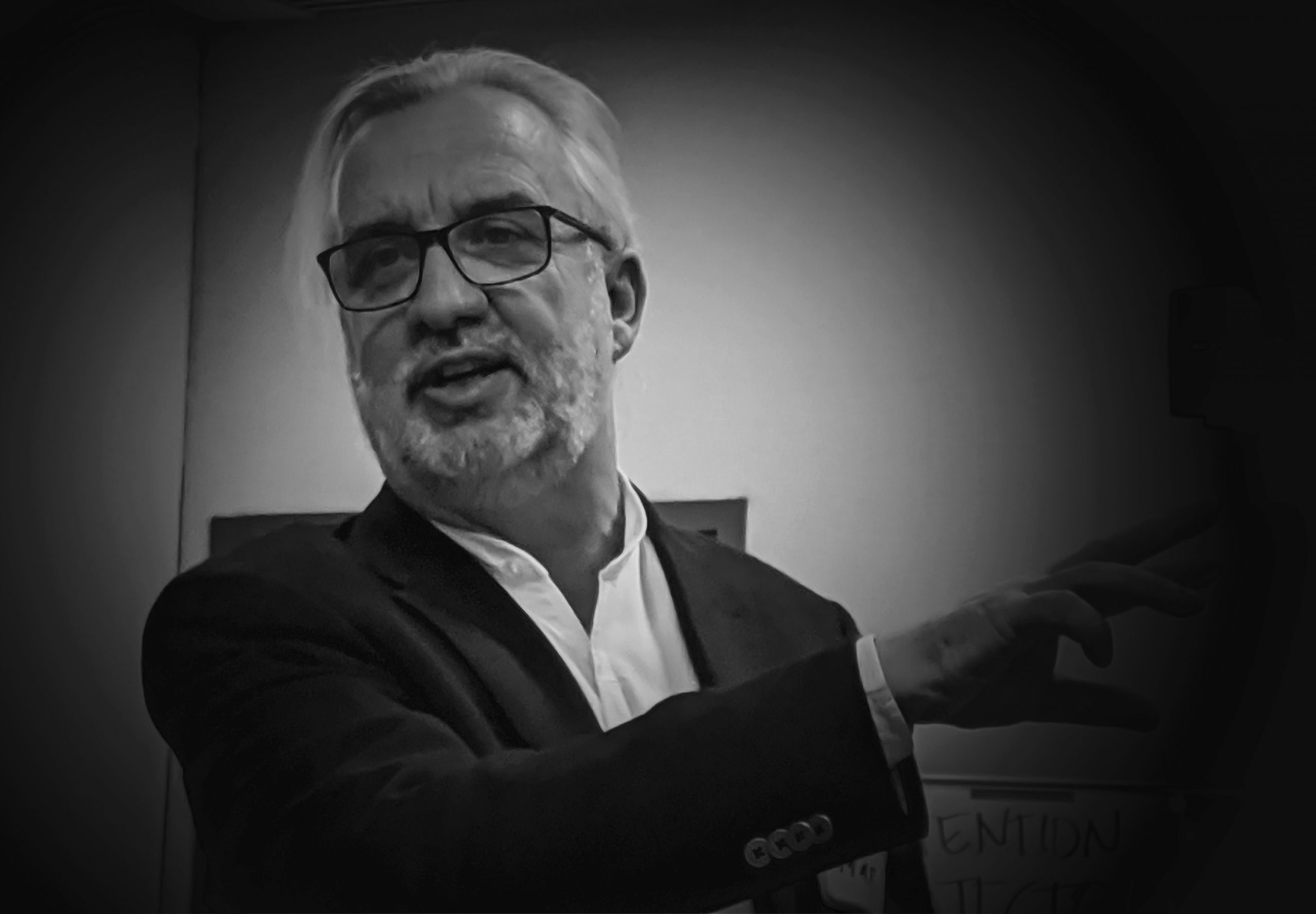 Dr. Mat Schulze
Social Interaction and Context in Online Language Learning
The workshop, Social Interaction and Context in Online Language Learning, will take place on Friday November 20th from 4:30 to 6:30 pm. The workshop will include a one-hour presentation followed by a one-hour panelists' discussion to answer any of your questions.
Workshop Abstract
For most of us, the recent months with COVID-19 have been a reminder that we as humans are social beings. But what does that mean in the online modality of teaching and learning? In our interaction with one another, what changes online and what does not? What are the context variables that impact teaching effectiveness and learning experiences and success? Let us use this Friday afternoon to take the necessary time-out and reflect on our teaching practices systematically.
About the Presenter
Mat is the director of SDSU-LARC. The Language Acquisition Resource Center runs intensive language training courses for DoD personnel and professional development courses and workshops for world languages teachers. He also is a professor of German with a specialization in Applied Linguistics / Language Education. His training as a teacher of German and Russian languages and literatures, he received in Leipzig, Germany. He has taught at secondary schools in Germany and at universities in Britain, Canada, Germany, Russia, and the US. He has published research articles and books on computer-assisted language learning and designed his first set of online language courses in 2001. More information is on his website at https://matschulze.net.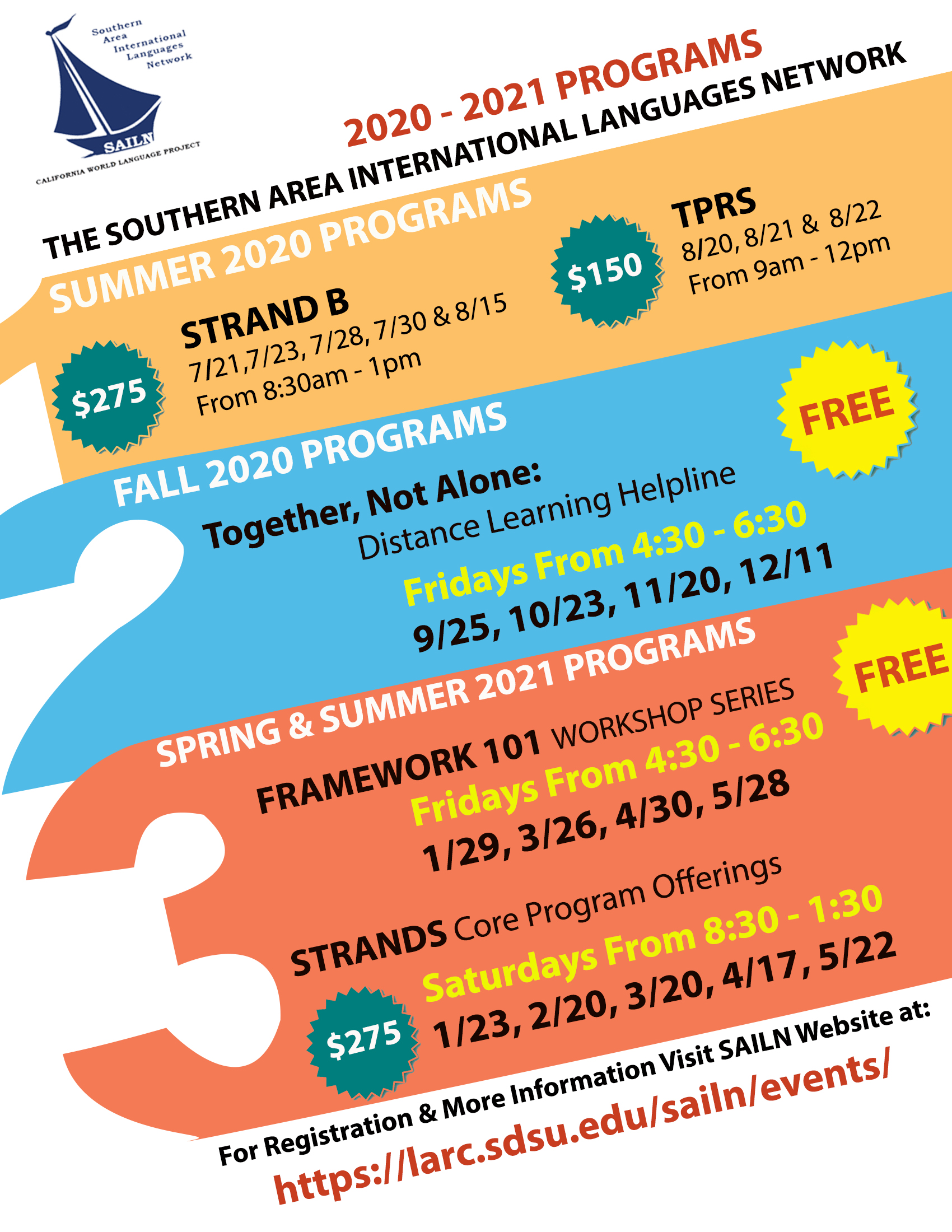 Together, Not Alone: Distance Learning Helpline
On Friday December 11th, Dr. Nada Novakovic and Tonja Byrom will co-present a workshop on "Feedback, Assessment and Grading in Online Language Learning."
Framework 101 Workshop Series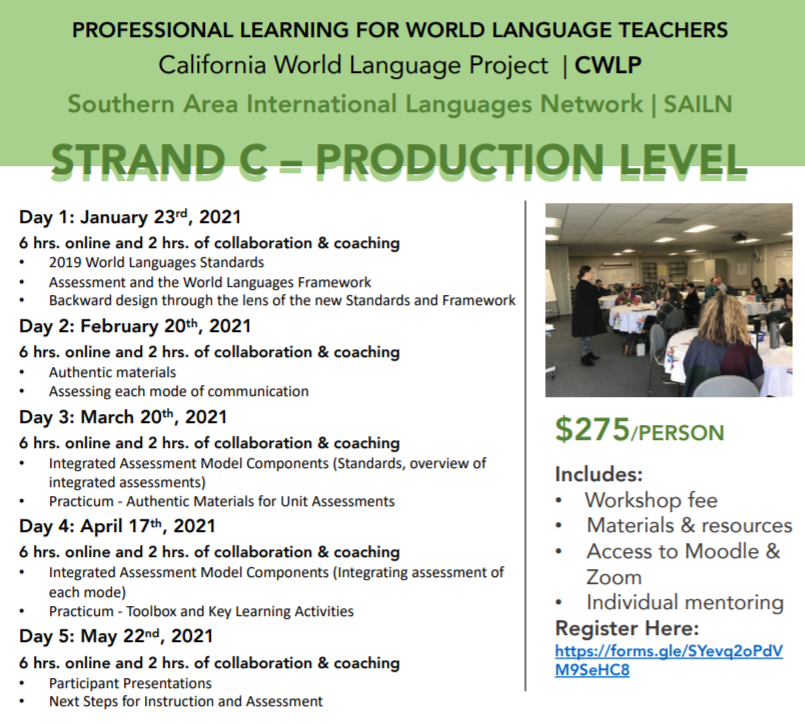 Strands A, B, C, E - Spring 2021
Dates: January 23rd, February 20th, March 20th, April 17th, and May 22nd 2021
For a description of each Strand, please go to https://larc.sdsu.edu/sailn/core-offerings. Click on the link below to view the flyer.
Strand E: Supporting English Language Learners
Contact Information
Shahnaz Ahmadeian Fard
Director, SAILN Project
Email: larc.sailn@sdsu.edu
Office Phone: (619) 594-0846