Please scroll down to view the event descriptions, presenters, and registration link.
Strands A, B, C - Spring 2021
Dates: January 23rd, February 20th, March 20th, April 17th, and May 22nd 2021
For a description of each Strand, please go to https://larc.sdsu.edu/sailn/core-offerings. Click on the link below to view the flyer for each strand.
Framework 101 Workshop Series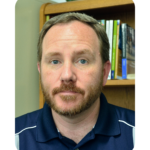 Dr. Chris Brown
Strand D - Leadership
Dates: October 17th 2020, January 30th 2021, and April 24th 2021
Lead: Dr. Chris Brown
Leadership is an act of service to the profession. In this course, participants will delve into the philosophy and practices of leadership as it relates to personal growth. Participants will be challenged to think deeply about their role as a leader, regardless of the current position they hold. They will also be encouraged to take risks with their leadership abilities by pursuing actions and roles that create meaningful change in their context.
Registration is closed for this event.
Contact Information
Shahnaz Ahmadeian Fard
Director, SAILN Project
Email: larc.sailn@sdsu.edu
Office Phone: (619) 594-0846